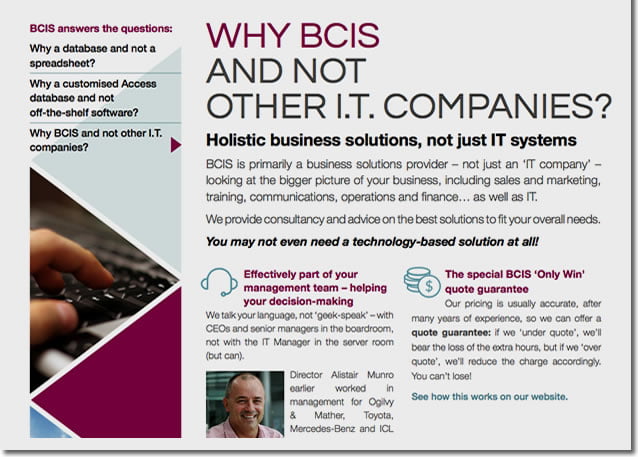 The Client
Business Communications & Information Systems Ltd is an I.T. company specializing in databases and providing holistic business solutions, based in Auckland, New Zealand.
The Project
Marketing analysis
Flyer writing
Excerpt
Holistic business solutions, not just IT systems
BCIS is primarily a business solutions provider – not just an 'IT company' – looking at the bigger picture of your business, including sales and marketing, training, communications, operations, and finance… as well as IT.
We provide consultancy and advice on the best solutions to fit your overall needs.
Effectively part of your management team – helping your decision-making
The special BCIS 'Only Win' quote guarantee
Ensuring successful implementation
Testimonial
"An effective collaboration where David picked up on my vision and took it to a higher level.
We were very excited by what David did. He demonstrated excellent listening skills and probing techniques when determining the project requirements.
He also had innate knowledge of the technology-based subject, which aided us through the development of the material.
The flyers look great and the messages are succinct, logical, and easy to follow."
… Alistair Munro, Director